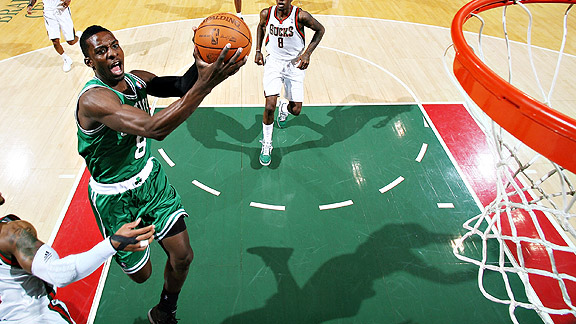 There's a scene from Parks and Recreation (for my money one of the best shows on TV right now, but that's neither here nor there) in which Aziz Ansari's character Tom becomes entranced by a piece of abstract art. When the main character, Leslie, says "I'm not really sure what I'm looking at," Tom gets defensive. "It's abstract, Leslie. See over here you've got some shapes. And then you go to the other side…Actually, this is pretty interesting."
I feel kind of like a combination of Leslie and Tom after watching Jeff Green's first decent game of the season against Milwaukee on Saturday. I'm not really sure what I'm looking at, but on the other hand, over here you've got eight free throw attempts. And then you go to the other side and you see some surprisingly solid defense, and I'll be damned if it doesn't look like a pretty decent game for Uncle Jeff.
Through the first five games of the season, the most applicable critique of Green was his lack of assertiveness. He has looked uncomfortable and hesitant, which has led some commentators to jump to hasty conclusions. Bill Simmons tweeted "I'm already bummed about Jeff Green's contract. That was fast."
Um. Yes. Yes it was very fast and probably less than fair. While Green's apparent return to his 2011 self might be reason to panic for some, he looked comfortable and effective in the preseason. And although preseason is far from an indicator of regular season productivity, it should be enough to buy Green some time, more than five games, before we write him off as a lost cause.
So the most important question is this: If we are trying to harness the good Jeff Green that we saw Saturday against the Bucks (and in the preseason) and keep out the bad Jeff Green we saw against Philly (and others), where and how is he most effectively used?
Perhaps most importantly, he seemed to be playing a more comfortable position. So far this season, Green hasn't looked very comfortable shooting jumpers or posting up on slower defenders. Nor has he looked comfortable playing in isolation on the wing, either. Where he has looked most comfortable (and it's not close, really) is driving to the rim to create a layup, a tendency that extends all the way back to his preseason success. His opportunities as the P&R Roll Man, a play which doesn't force him to handle the ball but also allows him to use his athleticism and length around the rim, have produced 1.2 ppp, a very respectable number.
There has been an interesting clash between camps as people have argued for Jeff Green as both a small forward and a power forward, but early season returns are pretty clear: Despite Boston's need for a back-up to Paul Pierce, it doesn't seem at all likely that Green can fill the role. The Synergy Sports stats, though limited thanks to the small sample size, support this. Green hasn't bothered to try anything in isolation really, preferring to pass the ball off when put in a 1-on-1 situation. As a spot-up shooter, he has been effective (1 ppp in 20 attempts), but not as a shooter from distance (28.6% from 3-point range in spot-up opportunities). So as a small forward, Green hasn't been a good solution.
Green has been, at his best, a combo forward or a stretch-4. In very small sample sizes, Green has produced well as the P&R Roll Man, but he has also averaged 1 ppp as a spot-up shooter, which is surprisingly decent. As I mentioned before, Green has been shooting poorly from 3-point range, but he is still effective in spot-up situations because, much like his duties as a roll man, when Green gets the ball on the perimeter, he's actually pretty good at getting around his man and using his length at the rim.
Green doesn't have blazing speed, but his pump fake is pretty good, although one wonders how long it will be effective if he doesn't get his 3-point shooting numbers up. This example is cheating a bit as well, given the quality of Washington's defense (really, Vesely, you couldn't step up to defend this at ALL?). Still, one of the most positive signs from the Bucks game was that Green was able to either finish around the rim even when he was contested or create contact and get to the free throw line.
Green's defense is still a work in progress, at least in Doc's system. Although Green's numbers have been surprisingly ok as an individual (0.72 opponent ppp overall), he has a tendency to be late on rotations, and an opponent with crisp, quick passes can get him turned around and out of position. He also struggles to get through screens when he is the player getting screened off. But in isolation, he has actually defended quite well, and he was especially good against the Bucks. When he is forced to switch onto a smaller defender, he actually becomes quite a problem for his opponent. Although, as Jordan quite wisely pointed out, he doesn't have incredible lateral quickness, his length allows him to stay far enough back to prevent a player from driving around him while still being able to contest a jumpshot if a Monta Ellis or a Brandon Jennings should decide to pull up.
Green will need to be able to hedge on screens before he becomes a consistently effective defender in Doc's system as any switch naturally creates a mismatch, especially if Green is guarding a power forward-type player. But Doc's system really does take time to implement and Green has some natural defensive skills, so he seems likely to catch on eventually.
I'm not going to draw any conclusions based on these numbers because, obviously, we can't know what we are dealing with just yet. Green hasn't proved that he can produce consistently over an extended period of time (hell, he didn't even really produce for the entire game on Saturday), but he also has shown that it's not time to rule out his production yet.
Either way, I'm not entirely sure what I'm looking at. But Friday night, I liked what I saw.
Follow Tom on Twitter: @Tom_NBA.
One Response to "Jeff Green shows positive signs: Can it continue?"