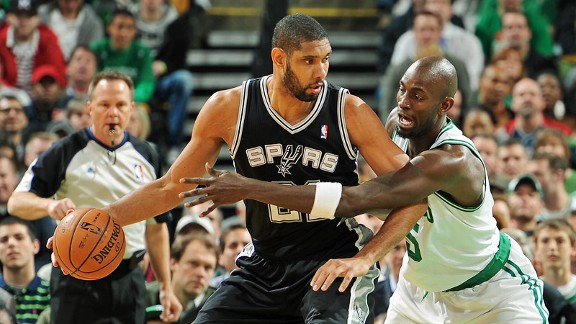 The Celtics had a chance in this one, as the Spurs were not at their finest, but the shots did not fall down the stretch for the boys in green and the Celtics picked up their second consecutive loss.  Boston leaves the run of games against the lone star state with one win in double over-time against Dallas after playing  the three Texas teams in a row.  Some notes from the game in descending importance order (sort of):
Jason Terry had the best half of his Celtic career with 17 in the first on 6-8 shooting.  I'm worried that his back hurt  in the locker room from carrying the team because he finished with 18, missing all five shots in the second half.
Jared Sullinger had 6 rebounds in 9 minutes in the first half, answering the call for rebounding– at least for the bench.  Unfortunately he only saw the floor for two minutes in the second half, grabbing one more board.  The Celtics tied the Spurs in both offensive rebounds (11) and total rebounds (38), so the problems for Boston were not focused around the glass.
Brandon Bass does not like Texas very much.  He averaged 4.33 points per game against the three teams (he scored two in this one).  His minutes have diminished with Jeff Green's recent increase in play.  Green saw a season high 32 minutes tonight and responded with solid play, chipping in 10 points and 3 rebounds.
Barbosa seems to be the only player for Boston who can get to the rim.
San Antonio's passing is gorgeous, they must get more wide-open threes than anyone else in the league.  They lead the league in assists per game with Tony Parker (a score first point-guard) running the team.  A lot of credit has to go to Popovich on this front as every player on the Spurs can pass the ball, especially the big-men.
The emphasis on tipped balls has been working as it seems as though the Celtics are doing a better job getting in the passing lanes.  It has yet to directly translate to better defense, but it has sparked the fast break numerous times in recent games.
As it is my favorite unimportant Celtic subplot I feel as though it is my duty to report the latest– the battle for technical free-throws waged on as Terry took and made the first, KG took and missed the second (both were on the floor for both attempts).
Unfortunately I had the disappointing loss after a back-to-back headline already prepped, and the Celtics were predictably flat.  I was trying to set myself up to be pleasantly surprised– but no such luck.  Celtics have another tough game coming up, squaring off against Chicago on Tuesday as they try to stay above .500.
9 Responses to "Spurs 103, Celtics 88: San Antonio provides a lesson on how great teams play"