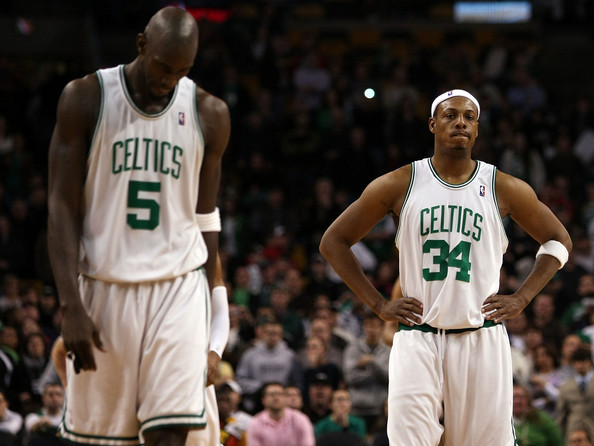 The fine folks over at CelticsHub brought attention to this rather troubling quote from Gary Washburn of the Boston Globe: Apparently, the Celtics are getting used to losing.
Anecdotes like this from Gary Washburn of The Boston Globe also don't help.

The locker room has become a playhouse after games, with players brushing off difficult losses like Boston snowflakes…Rondo is attempting to become a leader, but his teammates have to view him as one. They can't view him as just a buddy. He has been handled the mantle and he absolutely has to begin holding his teammates more accountable and demand that they take their jobs more seriously. He has rid the locker room of the "I'm not worried, we have another game tomorrow" attitude.
Now admittedly, I'm no expert on post-game locker rooms. My time spent covering the NBA with credentials has been limited to Summer League, where wins and losses are considerably less important than personal performance, so losses could still be positive and wins could still be negative.
But we know from experience that the Celtics perform well when they are motivated and angry. Rondo routinely performs better against the Bulls seemingly out of spite. After the Kris Humphries debacle earlier this year, the Celtics smashed their way through Brooklyn in their next match-up. Hell, back in 2010, it took a dust-up between Paul Pierce and Quentin Richardson to wake the Celtics up for the playoffs.
What's worse: Boston has gotten away with being selectively motivated for several years now. The Celtics were fairly mediocre until the All-Star break last season before turning on the jets in the playoffs. And while the Celtics were within a game of the Finals, they undeniably caught a break not having to face Chicago.
Much has been made of the way Boston consistently coasts through the regular season and picks up the intensity in the playoffs. But as the important pieces on the team get older, this strategy becomes more and more unreliable and worrisome.
Follow Tom on Twitter: @Tom_NBA
4 Responses to "Washburn: 'The locker room has become a playhouse after games'"