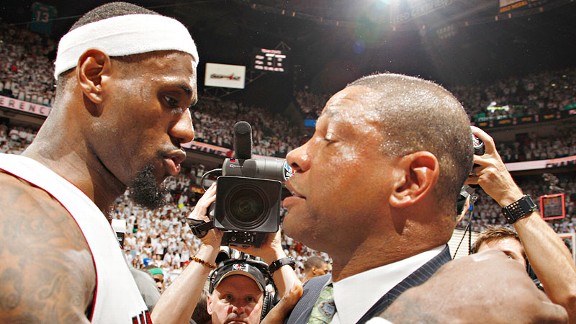 Despite Jerry Colangelo's greatest efforts, it appears as though the beloved Mike Krzyzewski will be stepping down from his role as the head coach of the United States basketball team.  While Gregg Popovich is still a likely candidate to take the vacancy, don't count out the Boston Celtics coach just yet (via CBS sports):
Rivers was in London for the Olympics as a studio analyst for NBC Sports, and he made his presence felt around the team — staying in the team hotel and eating meals with the players. During the Celtics' run of success during the now-crumbling Big Three era, Rivers forged strong relationships with some of the biggest stars in the game — many of whom will still be with Team USA in Rio. Also, there's a feeling among some involved in Team USA that Rivers' personality and skilled handling of star egos would provide a more natural transition.

"With Doc, I think it would keep the same chemistry going," one person briefed on the matter said. "If Pop comes in, he would want his own way of doing it — kind of the Spurs' secretive way of doing things — and out of Jerry's norm."
Colangelo's logic is not entirely flawed.  Popovich for my money is the best coach in the league, but he claims that role by doing things his own way.  Doc would potentially be more open to working within the established system, and is known for his abilities to work with superstar personalities, not that Pop cannot, leader of the winning Western Conference All-Stars (yes, that was a joke).
Either coach would probably do an amazing job and coach the most talented basketball team to another gold medal.  That being said it would be cool to have Doc's accomplishments honored with a nod from the national basketball committee  and get some green representation for the red, white, and blue.
Follow Jesse on Twitter: J_duderanch